BILLING INFORMATION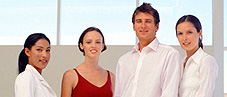 INVOICING

PER MINUTE PRICING PLANS

Conferencing For Less will email you a call summary within 24 hours of your completed conference call. This will show you details of the call and all applicable charges.

Your following credit card payment will be processed at the end of the day of your conference call. Conferencingforless.com, a leading conference call service provider accepts MasterCard, Visa, Discover and American Express.

FLAT RATE UNLIMITED AND MONTHLY PLANS

The monthly and flat rate pricing plans will be billed automatically to the credit card designated during the registration process at the start of the subscription period and at the start of each renewal period thereafter, unless you terminate your subscription before the period begins.

For additional questions about our billing please review our rates page.



BILLING ISSUES

If you have a billing question not covered here, please feel free to contact our Customer Service Center.